Rector Jeremy Greaves from St Mark's Anglican Church in Buderim is happy to bless same-sex unions.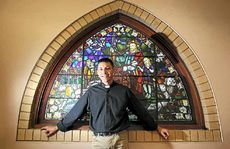 The head of Buderim's Anglican Church believes Christians are ready to embrace marriage equality.
Rector Jeremy Greaves says "all the statistics show there is a growing acceptance amongst Christians across churches for marriage equality".
However, he believed it would be "a while" before the church authorised it.
This is a situation, the rector finds curious, particularly as last weekend he was called on to bless pets.
"It seems slightly odd we can bless pets, but can't bless a relationship between two people who love each other," Mr Greaves said.
But Mr Greaves' views are not shared by all his colleagues.
Another senior person in the church said most Christians did not support same-sex marriage.
Opinion is certainly changing. On Monday, the Anglicans in Perth voted to have same-sex relationships recognised.
And some churches have taken to using their billboards to share their support for same-sex marriage.
A small Methodist church in America raised eyebrows with its September billboard "Jesus had two dads and he turned out just fine".
Days later the Chermside Anglican Church posted on its billboard a "message" from God to Christians.
"Dear Christians. Some people are gay, get over it. Love God".
Mr Greaves said "more and more the mind of the church and Christians is changing, as it has on slavery and woman's issues".
The head of the Anglican Diocese of Brisbane, the Right Reverend Alison Taylor, said the church was still discussing the issue. The Sunshine Coast is part of the Brisbane diocese.
"The Anglican Church acknowledges and continues to participate in community discussion about altering marriage laws to recognise same-sex partnerships and does so affirming its commitment to the present definition of marriage in the federal Marriage Act," Bishop Taylor said.
Please click here to vote on the webpoll attached to this article.
Photo: Brett Wortman
Author: Kathy Sundstrom
Publication: Sunshine Coast Daily
Date: 11 October 2013