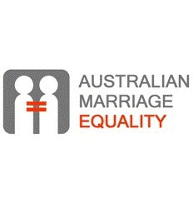 Marriage equality advocates say Shadow Treasurer, Joe Hockey's, admission that heterosexual couples don't necessarily make better parents than same-sex couples, shows that human reality is trumping political rhetoric in the marriage equality debate.
The admission came in response to a question during last night's edition of the ABC panel show, Q&A, in which Mr Hockey was asked why he believes he makes a better parent than finance minister and co-panelist, Penny Wong, who is raising a child with her same-sex partner.
Australian Marriage Equality spokesperson, Rodney Croome, said
"Mr Hockey's admission shows that there is a gulf between the political rhetoric of those who oppose marriage equality and the human reality of same-sex couples who are living in loving, committed relationships and raising children well."
"The job ahead of supporters of marriage equality is to challenge the rhetoric by focussing politicians on the reality."
Mr Croome said Australian Marriage Equality will step up it campaign in the lead-up to a vote on marriage equality later this year by arranging for MPs and Senators who oppose the issue to meet same-sex couples and their children.
After being asked if he and his wife Melissa were better parents than Senator Wong and her partner Sophie, Mr Hockey said "I don't believe we necessarily make better parents because we're male and female".
But Mr Hockey said he remains opposed to same-sex marriage.
"I think in this life we've got to aspire to give our children the very best circumstances and that is a mother and a father," he said.
Earlier this week the president of the Australian Medical Association said there is no evidence that children with same-sex parents are any different to those with heterosexual parents:
"There is a growing body of evidence that says there's no difference in their psychological development, their general health, their sexual orientation," he said. (Report here)
In 2007 the Australian Psychological Society conducted a large review of scientific literature based on 30 years of research tracking children raised by same-sex parents, and concluded that children those families are at no disadvantaged compared with their peers.  (Report here)
For more information contact Rodney Croome on 0409 010 668.